This post is also available in:

Tamil (தமிழ்)
Sinhala (සිංහල)
Going to the gym became a more fancy thing than a healthy habit. Because in Sri Lanka, gyms are really expensive and unable to access by most middle-class people. Nowadays it becomes more and more expensive after this massive economical crisis, in order to high maintenance costs and increased taxes and bills. In this scenario, people with mediocre financial status can't afford gyms and weight training. But there are some cheapest gyms all around the island. Unfortunately, they're so least amount and also they're situated so far from every downtown to avoid paying high real-estate rent. A better solution for those problems is doing workouts at home. But that's also very costly when we want to buy weight training equipment. To ignore this unwanted spending, you can make equipment on your own or you can modify things to do workouts on it. Here we're giving you six pieces of equipment and ideas to do your weight training.
Effective Ways to Do Weight Training at Home
#1 Old School Stuff
Take an old-school backpack. The shoulder belts of the bag should be stronger. Put some heavy books or bricks inside the backpack and close it. The backpack takes the role of exercising the machine's body and the books and bricks you put to take the role of weights. That's it your weight training equipment is ready!
Hang that bag on your shoulders and start doing push-ups. This workout carries the exact same effect as the bench press in the gym. This not only trains your chest but also trains your triceps.
Sit on a chair or bed, then put your legs crossly through the bag's shoulder straps. Now lift your shin with a force under your backpack, like doing leg extensions. This workout will train your Vastus Medialis and Rectus Femoris muscles.
Grip the shoulder straps by your palms with fingers folded and hold the entire weight in your knuckles. Then start to left up and put down like a bicep curl. This will train your forearms and biceps.
Hang the bang in your back with weights loaded and do squats. It targets your thigh muscles and lower back muscles.
#2 Chairs & Bed
Of course, you can use your bedroom furniture to do your weight training. Non-Spinning chairs with hand rest are best for this purpose. Choose strong wooden chairs otherwise the plastic-made chairs may break into pieces.
Incline Push-Up: Hold your hands on the edge of the chair seat and keep your body in the push-up position. Your feet must be strong and still on the ground. They start doing incline push-ups. It'll activate your lower chest.
Decline Push-Up: Put your feet on the chair's seat and keep the rest of your body straight in the push-up position. Do push-ups, and make sure your entire body is remaining straight while doing it. This exercise trains your upper chest.
(If you want to increase the intensity of that workout, hang your bag with some weights like said before)
Deep Push-Up: Place two chairs at the distance equal to the width of your shoulders. Hold each hand on each chair's seat and do push-ups. You have brought your chest down to the floor and lifted back to the top. Best for your inner chest muscle.
Triceps Dips: Bring two chairs and hold their armrest parallel to each. Put your hands in the L position on both chairs' armrests and do tricep dips. This strengthens your triceps and chest.
Chair Dips: Position your hands on the seat of the chair. Extend your leg in front and keep them slightly folded to 30 degrees. Slowly take your body down until your upper arms become parallel to the seat. Then move up again. It gives weight training for your triceps, back and shoulder muscles.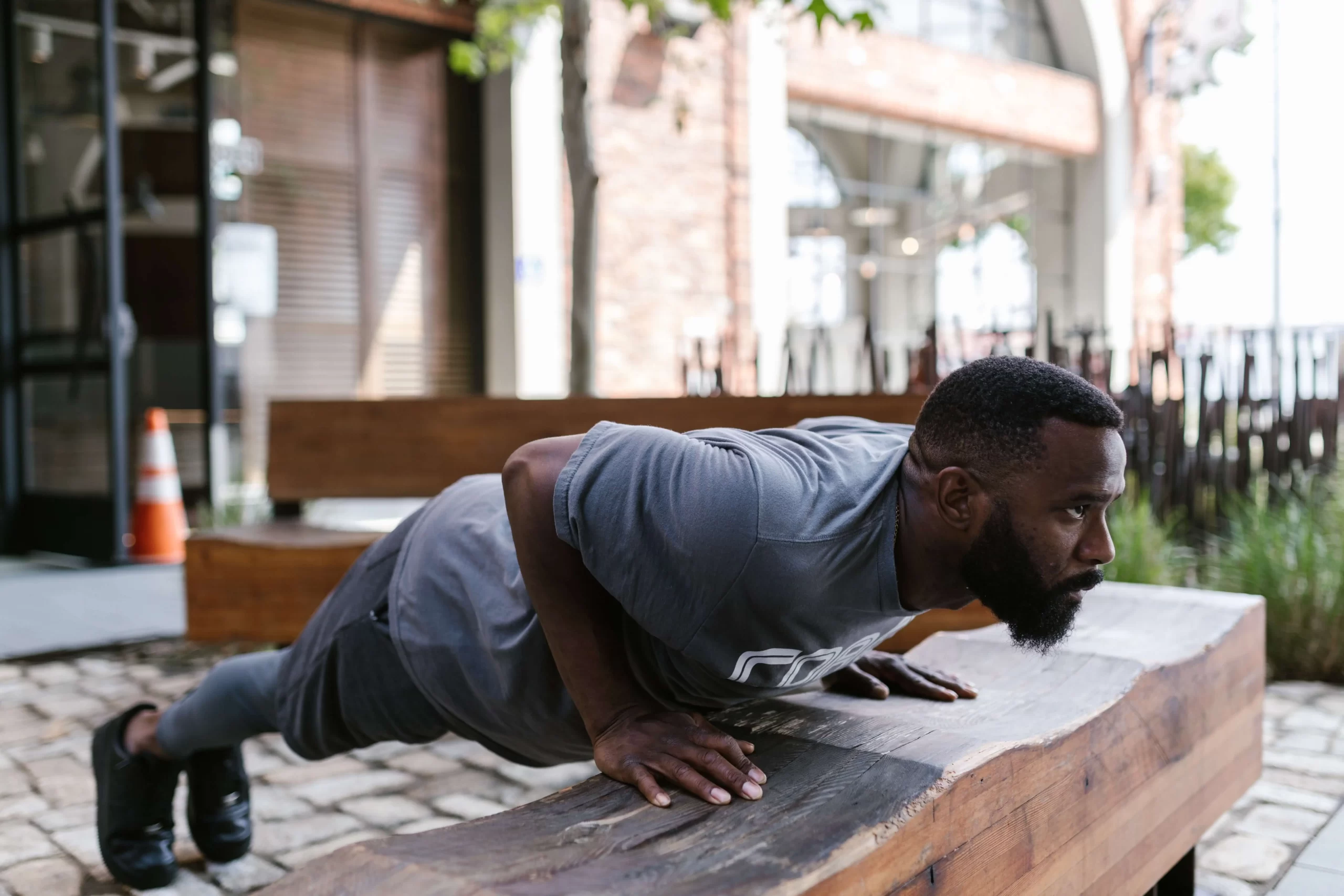 #3 Resistance Bands
This is where you're going to spend a little bit of money to do your weight training. Yes! In Sri Lanka, resistance bands cost around 1500 LKR – 4000 LKR. It varies from the different resistance levels. You can order yours via this link. Resistance bands act like a dumbbell. Most of the workouts done by dumbbell and barbell have been taken over by resistance bands. Because it's super affordable and multi-functional. Let's learn how to exercise with resistance bands.
Lateral Raise: Place your both feet in the middle of the band and hold hand bars with each hand. Raise both hands in sideways like wings. Then put back in the starting position. Repeat it.
Bicep Curl: Like lateral raise, feet on the band. Hold the hand bars vertical to your upper arm and start doing a biceps curl.
Bent-Over Row: Stand over the band. Bend slightly at your knees. Pull up the hand bars with your elbows all the way back and squeeze your back muscle.
Overhead Press: Place your feet in the middle of the band. Take the hand bars and pull them over your head with each hand.
Forward Raise: This helps you to do weight training for your front shoulders. Stand in the middle of the band. Take the hand bars and pull them in the direction of raising your arms in front of you.
#4 Strong Aluminum Rode
Aluminium rode or any other straight and strong sticks are great alternatives for barbells. For weights, you can use the first piece of equipment which is a backpack with some books or bricks. And also it functions as a pull-up bar when you install it on your wall.
Biceps Curl: Take your weight bag and insert the aluminium rode through the shoulder straps. Then hold the rode with your two hands. Do biceps curl.
Bench Press: Place a bench in the middle of the resistance band. Insert the rode through two hand bars of the band. Lie on the bench and hold the rode by your hands at a width slightly wider than your shoulder. Bring down the rode near your chest and then explosively press up to the starting position. The bench press can train your chest, triceps and core.
Pendlay Row: Prepare the rode and weight bags like prepared for a biceps curl. Position your feet about your shoulder width. Bend over and grab the rode with a little bit wider than the shoulders' width and make sure your palms face toward you. Straighten your back, and pull the rode to your lower chest. Once the rode touches your body, take back the rode to the starting position. It's equal to barbell back workouts.
High Pull: Take the rode with a weight bag installed. Hold the rode with a shoulder-width gap between your hands. Explosively pull the rode to shoulder level while keeping your elbows wide. It strengthens your shoulder.
Shrug Pull: Prepare the rode and weight bag. Grab the rode with your hands' width wider than your shoulder. Lift your shoulders up and hold them for 5 seconds then lower them back to normal. While doing this workout make sure your spine is straight. This targets the trapezius muscles.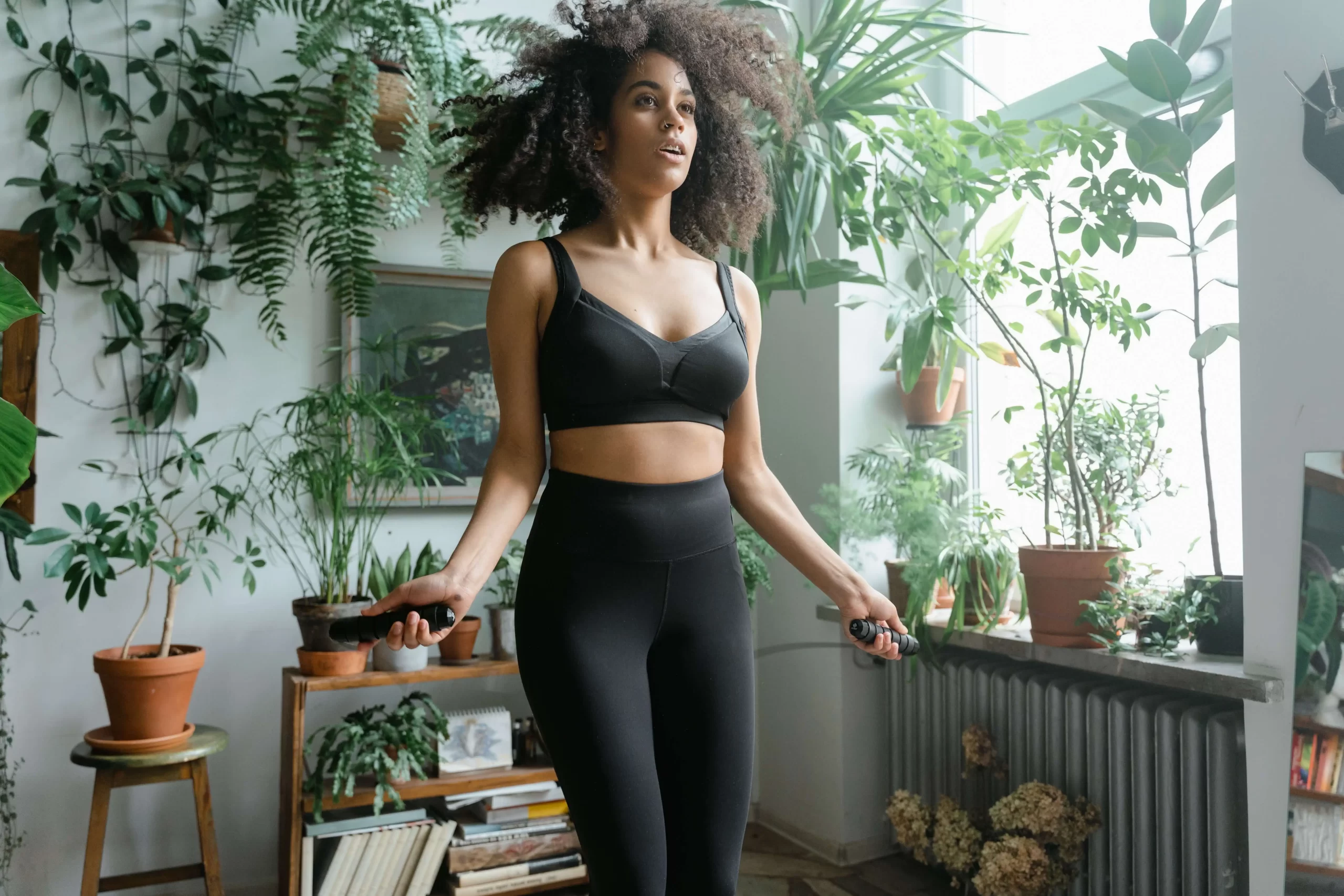 #5 Skipping Rope
You can use ordinary ropes, wires or even cables as skipping rope to do your weight training. But they won't have a better grip. Buying a skipping rope in Sri Lanka costs you 500 LKR- 3000 LKR. Skipping is a simple and more effective exercise. It melts unwanted cholesterol faster from the body. Use your hands and wrists to swing the rope. And try to keep the rope's motion limited between your wrists. Skipping engages with the legs, shoulders, arms and abdominal muscles. 15-20 minutes of skipping sessions can burn 200-300 calories. Let's have a look at these skipping workouts that are best for your weight training.
Basic Jumping: It's a traditional rope jumping style used by all beginners. Take your jumping rope, keep your body in a straight position, and then start jumping with your both legs while swinging the rope.
Alternate Footstep Jump: This jump is really intensive and a bit more advance than a basic jump. Swing the rope and switch your both legs in a rhythm by lifting it 20-30 cm from the ground. It should be like jogging in the same place.
Boxer Step Jumping: It's one of the very effective jumps rope weight training exercises. This was hyped by boxers through their endurance training. Like an alternative foot jump, you have to jump with both legs at a lower height and transfer your body weight from one side to another. It allows you to jump for a longer period of time by frequently shifting your weight between both sides.
#6 Yoga Mat
If yoga mats are expensive then you can use a rectangle-shaped cloth with high width for your weight training. Not only you can do yoga with it but also you can do weight training like abs workouts on yoga mats. In Sri Lanka, it costs 2000 LKR-6000 LKR to buy a yoga mat. It's a bit expensive, So you can use your old bed sheets folded to a rectangular shape. From abs to triceps, you can do the weight training for your whole body muscles with the yoga mat.
Body Weight Triceps Dips: Position your body perpendicular to your thigh. Keep your palms and feet on the mat with your fingers positioned towards your feet. Noe brings your butt low with the support of your hands. Then explosively launch your butt upward. Do 15 reps.
Plank: Position your body parallel to the mat with support on your elbows. Keep your toes touching the ground. Maintain the position for 45-60 seconds. This weight training targets the muscles in your shoulder and abs.
Sit Up: Lay on the mat. Fold your legs upwards. Then move your body up and forward until your chest touches the knee. Do 15-20 reps. This workout is perfect to train your abs muscles.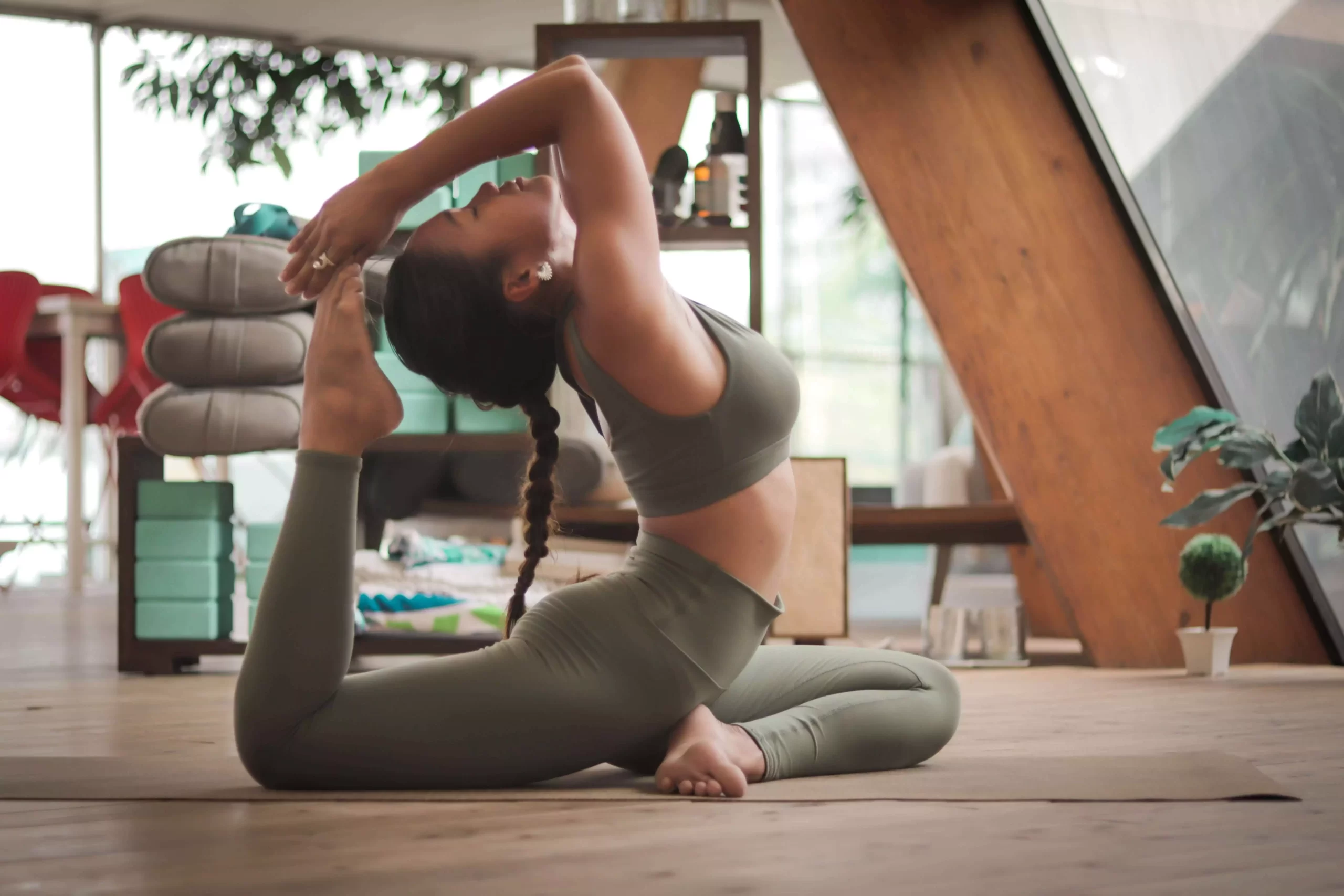 Don't Wait for The Opportunity, Just Create It
Utilize all the weight training ideas mentioned in the above article for your workout. If you have the ability to go to the gym or buy the proper equipment then go for it. Factors like poverty, environment, and circumstances should not affect your improvements. Break the limits and ride towards your goals.