This post is also available in:

Tamil (தமிழ்)
Sinhala (සිංහල)
Yep, Mangoes! Does anyone else just love this fruit? Well, Guys, if you need a cool and refreshing healthy treat, look no further than this healthy mango smoothie. Trust me, It's a delicious tropical paradise for your tastebuds.
Each serving of this mango smoothie delivers nutrient-rich fruits, protein, fiber, protein, and probiotics. The lean protein from the milk provides you energy, and the soluble fiber from the banana help boosts your heart health. The protein and fiber benefits of this healthy smoothie promote fat burning and help you in your weight loss journey.
You can make this mango smoothie with yogurt as well. It only takes a few minutes to prepare this smooth and creamy tropical-inspired mango smoothie vegan drink. This wholesome healthy mango smoothie is a perfect breakfast recipe for people who want to have a light and healthy breakfast.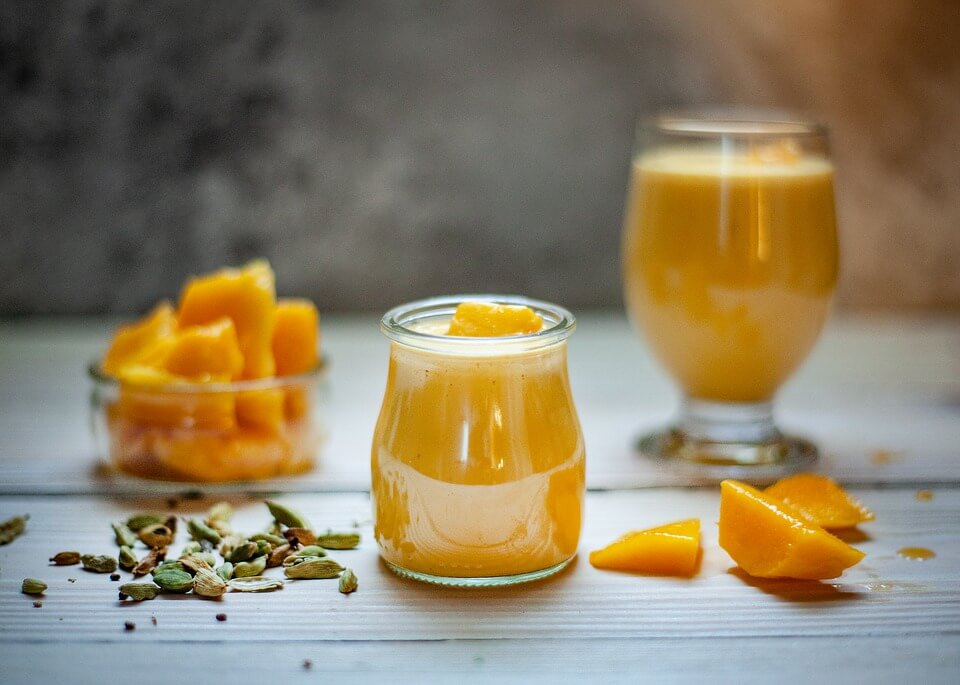 Healthy Mango Smoothie Nutrition Facts:
Total Calories: 409
Fat: 9.7g
Carbohydrates: 80.3g
Protein: 7.4g
Fiber: 14.3g
Total Energy: 87.2
Ingredients
1 Mango, peeled and cubed
1 Banana
1 ½ Cups Milk / Yogurt
2 Tablespoons Chia Seeds
1 ½ Cups Fresh Spinach (Optional)
1 Teaspoon Honey
Ice as Needed
Instructions
Once you have all the ingredients in your hands, it's easy! Toss everything into a blender and blend until it becomes smooth and creamy. Then pour your healthy mango smoothie into a jar, pop in a straw and sip up this cool, creamy, sweet, and delicious healthy smoothie. If you love cool smoothies, of course, you have to deal with a brain freeze, Enjoy 😉
Pro Tips:
Using a variety of fruits/vegetables or greens give nice textures and thickness for your smoothies.
Get a Good Blender to make smooth and creamy smoothies.
Choose the right smoothie ingredients that well-balanced your nutrition needs.
Buy the Raw / Ingredients: BuyFresh.lk | Saarakeetha.com | Thulsi Super seeds | Cargills | Your local shop 
The Review
Mango chia seed smoothie
Mango chia seed smoothie is a magical drink for fat burning. This healthy mango smoothie is one of the light, creamy and refreshing summer drink you will want to enjoy often.
PROS
Healthy & Tasty Drink
Easy to Make
Highly Nutritious
CONS
Finding the Ingredients
Mango is a seasonal Fruit, So,can't get fresh fruit every time
Review Breakdown
Tasty Tropical Delight!

Mouthwatering Healthy Drink

Good Treat for Tastebuds!