This post is also available in:

Tamil (தமிழ்)
Sinhala (සිංහල)
In today's fast-paced world, finding time to hit the gym can be challenging. Fortunately, with the advent of technology, you can now bring the gym to your fingertips. There are numerous free workout apps available that cater to a wide range of fitness goals and preferences. Whether you're a beginner looking to kickstart your fitness journey or a seasoned athlete wanting to spice up your workouts, these apps have got you covered. In this article, we will explore the best free workout apps to try, helping you achieve your fitness goals conveniently and affordably.
Top Free Workout Apps to Supercharge Your Fitness Journey
Nike Training Club
MyFitnessPal
Fitbod
7 Minute Workout
JEFIT
Runtastic
Yoga for Beginners
StrongLifts 5×5
1.Nike Training Club
Nike Training Club (NTC) is a multifaceted fitness application that serves as an indispensable workout partner. It boasts a diverse catalog of exercise routines meticulously crafted by expert trainers, making it a one-stop destination for fitness enthusiasts. With NTC, users gain access to a spectrum of workout plans, covering strength training, cardiovascular exercises, yoga, and an array of other fitness regimes. One of its standout features is the provision of comprehensive guidance, replete with step-by-step instructions and video demonstrations. This ensures that users perform exercises with precision and reduce the risk of injury. Whether you're a fitness novice or a seasoned athlete, NTC offers a versatile and user-friendly platform for achieving your health and fitness goals.
2.MyFitnessPal
MyFitnessPal is a multifaceted app designed to support your overall health and fitness journey. Beyond just tracking your workouts, it offers an extensive nutrition management feature. With a vast food database at your fingertips, you can easily log your meals and keep a close watch on your calorie consumption. This nutrition tracking is an essential tool for maintaining a balanced diet and reaching your fitness goals. Moreover, MyFitnessPal's workout section provides a diverse range of exercise routines, catering to various fitness levels and preferences. The app goes a step further by enabling you to connect with friends, turning your fitness journey into a social experience. This added social element provides motivation and accountability, making MyFitnessPal a comprehensive solution for those seeking to achieve their fitness and dietary objectives.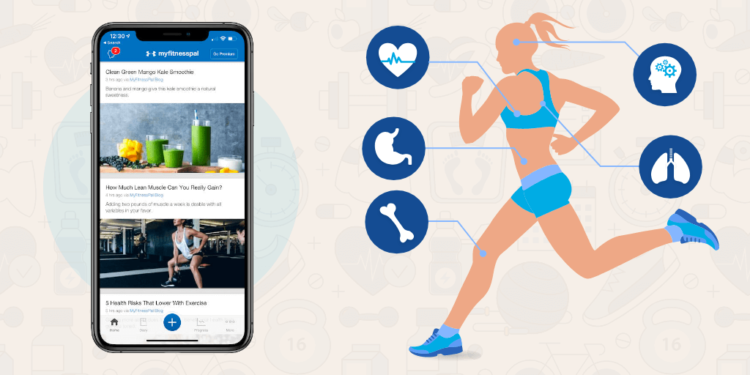 3.Fitbod
Fitbod is a top-notch fitness app catering to individuals seeking personalized workout routines. This innovative application stands out by crafting customized exercise plans according to your distinct fitness aspirations, the equipment you have at your disposal, and your current fitness level. Fitbod's data-driven methodology takes the guesswork out of your fitness journey, guaranteeing that every exercise is perfectly aligned with your unique requirements. By adopting a personalized approach, Fitbod optimizes the effectiveness of your workouts, making them more targeted and efficient. Whether you're a beginner looking to establish a solid foundation or an experienced fitness enthusiast aiming for advanced challenges, Fitbod ensures that your workouts are not only effective but also perfectly aligned with your individual goals, maximizing your potential for success.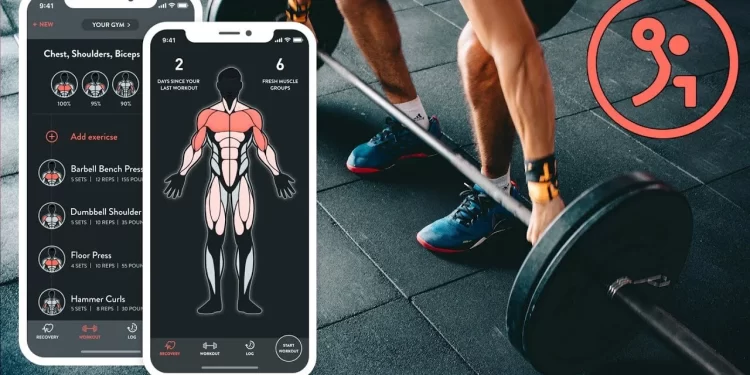 The 7 Minute Workout app is a time-efficient fitness solution tailored to those with tight schedules. Designed for individuals seeking a quick and effective exercise routine, this app offers high-intensity workouts that can be completed in a mere seven minutes. These workout routines are based on scientific principles to optimize results within a minimal timeframe. They typically involve a series of exercises that target various muscle groups, ensuring a comprehensive workout experience despite the brevity. This makes the 7 Minute Workout app an excellent choice for busy individuals who struggle to allocate long periods to exercise, allowing them to maintain their fitness and well-being even in the midst of a hectic daily routine.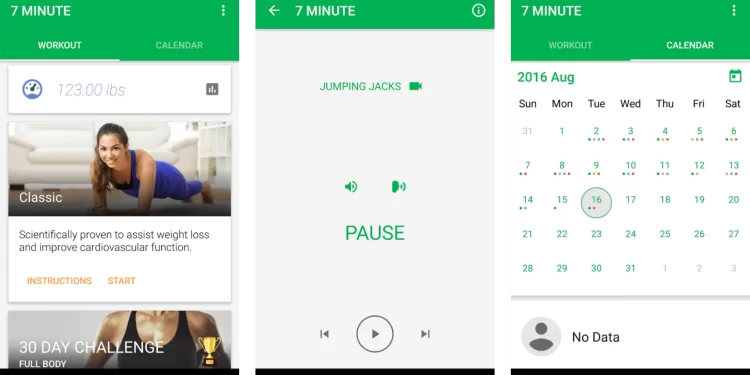 5.JEFIT
JEFIT is a comprehensive strength training app designed to cater to individuals dedicated to enhancing muscle growth and strength. The app boasts an extensive exercise library, complete with intricate instructions and illustrative animations, making it accessible and suitable for users of varying fitness levels. JEFIT empowers users with the tools necessary to track their workouts and monitor their progress through detailed progress charts, ensuring that they stay on course with their fitness goals. Furthermore, it fosters a sense of community by connecting like-minded fitness enthusiasts, allowing users to share experiences and provide mutual support and motivation. For those seeking a robust, all-encompassing solution to strength training, JEFIT proves to be an invaluable resource.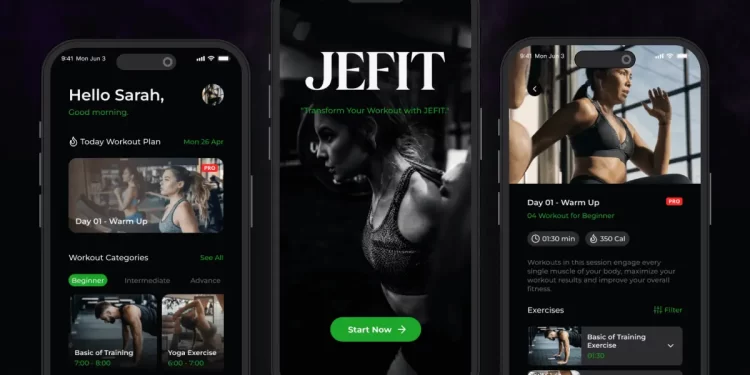 6.Runtastic
Runtastic is a widely recognized running app renowned for its multifaceted features. It goes beyond just tracking your runs, aiming to provide a comprehensive fitness experience. The app offers a range of functionalities, including GPS tracking that meticulously monitors your routes and distances, ensuring you stay on top of your running game. Additionally, Runtastic provides valuable audio feedback during your runs, offering real-time information on your progress, pace, and other vital statistics, enhancing your performance and motivation.
One of its standout features is the availability of diverse training plans suitable for runners of all levels, from beginners to seasoned athletes. These plans can help you reach your fitness goals, be it improving endurance, speed, or overall fitness. Runtastic effectively combines data-driven insights with guided workouts, making it an invaluable tool for individuals looking to elevate their running and fitness experience.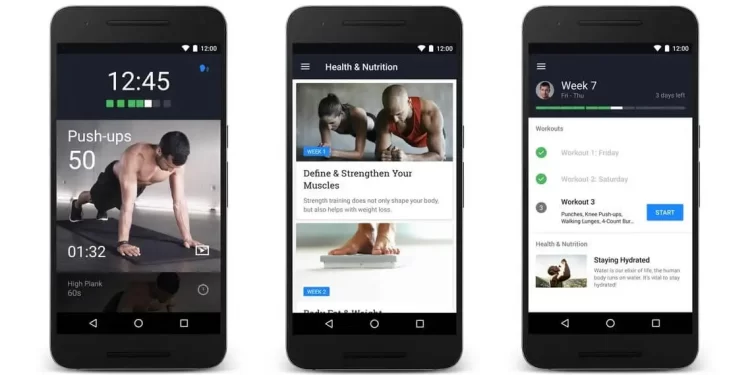 7.Yoga for Beginners
The "Yoga for Beginners" app is a valuable resource for individuals seeking an introduction to the practice of yoga. Geared toward novices, this app offers a diverse array of beginner-friendly yoga routines, com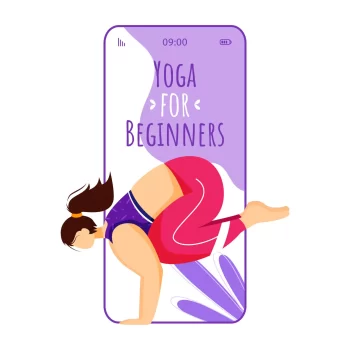 plemented by step-by-step instructional videos and guided sessions. Whether you're a newcomer to yoga or looking to revisit the fundamentals, this app serves as an ideal starting point. It focuses on enhancing key aspects of well-being, including flexibility and balance, while also nurturing mental health. By providing accessible and well-explained yoga exercises, the "Yoga for Beginners" app empowers users to embark on their yoga journey with confidence, fostering a sense of tranquility and promoting holistic health.
8.StrongLifts 5×5
The StrongLifts 5×5 app is a specialized fitness tool tailored for individuals with a primary focus on strength training. This application is designed to offer a simple yet highly effective workout program rooted in the renowned 5×5 regimen. The core principle of this routine revolves around the utilization of compound exercises and the gradual increase of resistance, a technique known as progressive overload. By consistently following the StrongLifts 5×5 program, users can significantly enhance their strength and muscle-building capabilities. This app is an invaluable resource for those seeking a no-nonsense, results-driven approach to strength training, making it an excellent choice for individuals looking to maximize their physical power and overall fitness.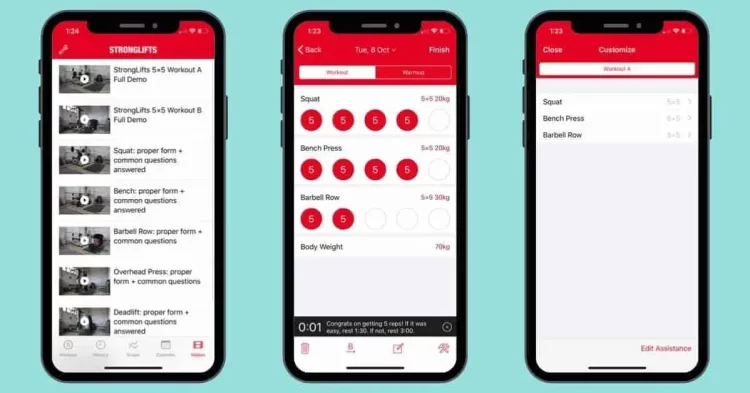 You don't need an expensive gym membership to achieve your fitness goals. These free workout apps provide a wide range of options for users of all fitness levels and preferences. Whether you're looking for personalized strength training, quick and effective workouts, yoga for beginners, or comprehensive fitness tracking, there's an app that suits your needs. Start your fitness journey today with these top free workout apps, and make the year you achieve your health and fitness goals.