This post is also available in:

Tamil (தமிழ்)
Sinhala (සිංහල)
Understanding Mindful Eating
In our modern, fast-paced world, it's all too common to hurriedly rush through meals or absentmindedly snack while juggling various tasks. Regrettably, this frantic approach to eating frequently results in overconsumption, disrupted digestion, and an increasingly precarious relationship with the food we consume. Yet, there exists an antidote to this widespread issue: the practice of mindful eating. Within the following pages, we embark on a journey to delve into the profound concept of mindful eating, uncover its myriad benefits, and learn how you can nurture a harmonious and healthful connection with the sustenance you enjoy.
Mindful eating is a practice rooted in mindfulness, a meditation technique that encourages you to be fully present in the moment. When applied to eating, it means paying full attention to the sensory experiences associated with your food, including taste, texture, and smell. This practice encourages you to savor your meals and make intentional choices.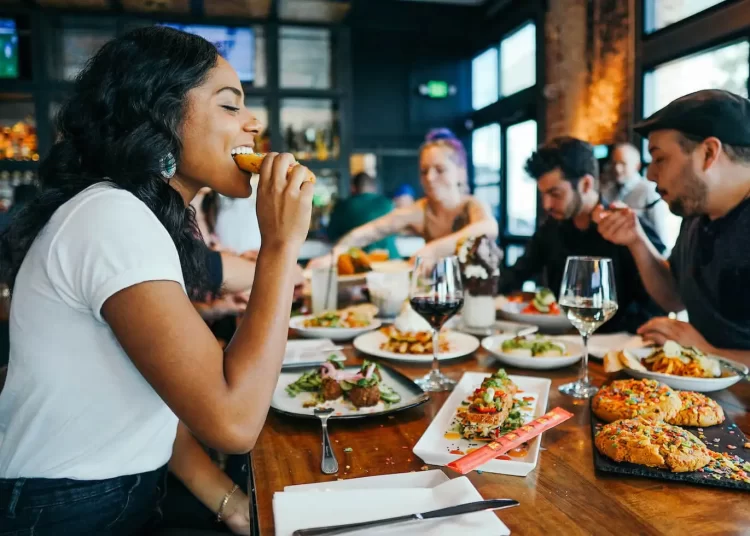 The Benefits of Mindful Eating
Improved Digestion
Weight Management
Reduced Emotional Eating
Enhanced Satisfaction
Better Food Choices
#Improved Digestion
Mindful eating offers a welcome respite to our overburdened digestive systems in a world where fast-paced lifestyles and quick, often mindless, meals have become the norm. When you embark on the journey of mindful eating, you introduce a deliberate and mindful rhythm to your dining experience. One of the key elements of this practice involves savoring each bite, thoroughly chewing your food, and paying close attention to the textures and flavors of what you consume. This deliberate approach to eating allows your body to process the nutrients more efficiently. When food is properly broken down in the mouth through diligent chewing, it aids in the digestion process, making it easier for your body to extract and absorb essential nutrients. In contrast, rushing through meals can lead to larger food particles reaching your stomach, which may result in discomfort, bloating, and indigestion. Furthermore, mindful eating enhances your overall awareness of the signals your body sends regarding hunger and fullness.
#Weight Management
In the realm of weight management, mindful eating is akin to a trusted compass guiding individuals toward a healthier and more sustainable relationship with their bodies and food. This practice encourages us to move beyond the restrictive constraints of fad diets and quick fixes, emphasizing a profound connection with what and how we eat. Mindful eaters are attuned to the subtleties of their body's signals, recognizing the nuanced difference between true physical hunger and emotional cravings. This heightened self-awareness enables them to make food choices aligned with their actual nutritional needs, reducing the likelihood of overindulgence. Over time, as the practice becomes ingrained in one's daily routine, weight management ceases to be a tiresome battle but transforms into a harmonious journey of self-discovery and nourishment. Mindful eating's impact on weight management is not merely superficial; it's a holistic transformation that touches on physical, mental, and emotional aspects, leading to lasting well-being and vitality.
#Reduced Emotional Eating
Reducing emotional eating is a pivotal aspect of mindful eating. By developing a heightened awareness of the emotions that trigger overindulgence, individuals can effectively break free from the cycle of turning to food for solace during times of stress or emotional turbulence. Mindful eating empowers you to distinguish between genuine physical hunger and emotional cravings, providing the tools to make conscious choices in response to your body's true needs. Through this process, you can liberate yourself from the grip of emotional eating, promoting a healthier and more balanced relationship with food while improving your overall well-being.
#Enhanced Satisfaction
Mindful eating goes beyond just the physical act of nourishing your body; it's an immersive experience that enriches your connection with the food you consume. As you engage with your meals on a sensory level, you'll find that every dish takes on new dimensions of flavor and texture. The simple act of slowing down and paying attention to what you're eating can transform even the most ordinary of meals into extraordinary experiences. It's akin to discovering the nuances of a fine wine or the layers of flavor in a gourmet dish. This heightened awareness not only makes each meal more enjoyable but also offers a greater sense of fulfillment. You'll realize that you need smaller portions to feel satisfied, and each bite becomes an opportunity to relish the present moment, fostering a healthier relationship with food and a more gratifying overall dining experience.
#Better Food Choices
Mindful eating acts as a compass guiding us towards better food choices by fundamentally altering our relationship with the act of eating itself. By cultivating a deep awareness of the sensory experiences associated with each meal, we transcend the realm of mindless consumption. We learn to appreciate the intricate flavors, aromas, and textures that compose our dishes, enabling us to truly savor and enjoy them. This heightened sensory awareness allows us to differentiate between foods that provide genuine nourishment and those that merely satisfy momentary cravings. We begin to understand the intricate dance between our bodies and the food we consume, recognizing when we're truly hungry and when we're seeking comfort or distraction. As a result, we become more selective, choosing foods that align with our health and wellness goals, whether that means incorporating more fresh vegetables, whole grains, or lean proteins into our diets. Mindful eating empowers us to embrace a diet that not only sustains our physical well-being but also satisfies our soul, fostering a profound transformation in how we perceive and interact with the sustenance that fuels our lives.
How to Practice Mindful Eating
Eat without distractions: Turn off the TV, put away your phone, and sit down at the table to eat. Engage all your senses in the experience.
Chew your food thoroughly: Take the time to savor and chew each bite at least 20-30 times. This helps with digestion and allows you to enjoy the flavors fully.
Pay attention to hunger and fullness cues: Before eating, assess your level of hunger. During the meal, check in with yourself to determine when you are satisfied, and stop eating when you're no longer hungry.
Savor each bite: Focus on the taste, texture, and aroma of your food. Be present with the experience, and avoid rushing through your meal.
Express gratitude: Take a moment to appreciate the effort that went into preparing your meal and the nourishment it provides.
Listen to your body: Be in tune with your body's needs. If you're not hungry, don't eat out of habit or boredom.
Slow down: Eating slowly allows your brain to catch up with your body's fullness signals. Put your utensils down between bites to pace yourself.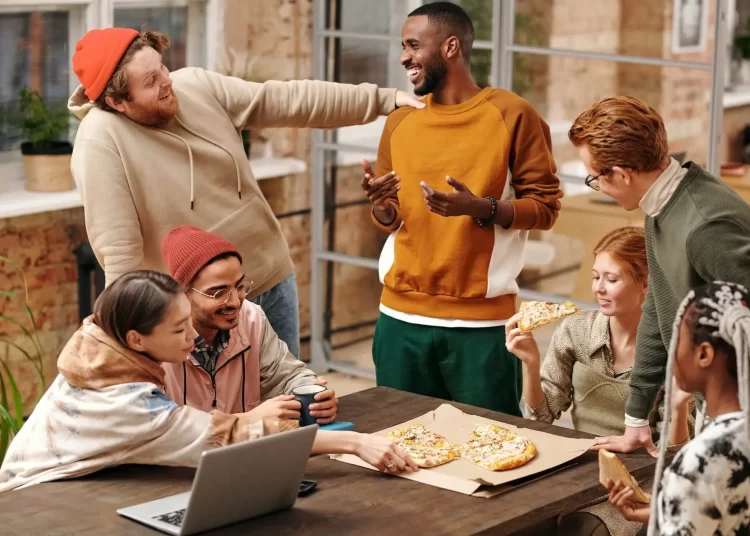 Mindful Eating and Weight Management
Mindful eating is not a diet but a way to develop a healthier relationship with food. It can aid in weight management by reducing overeating and emotional eating. By paying close attention to your body's hunger and fullness signals, you're more likely to make conscious food choices. Over time, this can lead to a more balanced and sustainable approach to weight management.
Tips for Incorporating Mindful Eating into Your Routine
Start Small: Begin with one meal a day where you commit to eating mindfully. Over time, expand this practice to other meals.
Practice Gratitude: Express gratitude for the food you're about to eat. This can enhance the experience and encourage mindfulness.
Mindful Snacking: Apply mindful eating to snacks as well. Avoid mindless munching in front of the TV or while working.
Seek Support: Consider sharing your mindful eating journey with a friend or joining a mindfulness group for accountability and motivation.
In Conclusion
Mindful eating is a powerful practice that can help you transform your relationship with food. By slowing down, savoring each bite, and listening to your body, you can enjoy meals more fully and make healthier choices. This approach to eating can lead to improved digestion, better weight management, and reduced emotional eating. Start your journey to mindful eating today and experience the profound benefits it offers for your overall well-being.