This post is also available in:

Tamil (தமிழ்)
Sinhala (සිංහල)
The scapula is a triangular-shaped bone, and it's the attachment point for 17 different muscles in our upper body. The best scapular exercises will give the attention these muscles deserve through various targeted exercises. Also, scapular exercises help strengthen the shoulder blades, improve shoulder stability and increase your strength for pressing.
Incorporating scapular exercises into your workout routine will help you have stronger shoulder blades and good shoulder stability. So, without further ado, let's check out the top 10 best scapular exercises for your shoulder muscles!
The 10 Best Scapular Exercises
Reverse Banded Flyes
Banded Pull-Aparts
Scapular Push-Ups
Banded YTWLs
Reach and Rows
Stability Ball Push-Ups
Forearm Wall Slides
Overhead Carry
Wall Ball Circles
Modified Plank with Protraction
1. Reverse Banded Flyes
Reverse Banded Flyes workout is good for achieving upper back hypertrophy through a wide range of motion, targeting all your upper back muscles. When you do reverse banded flyes, you'll feel the burn in your shoulder blades, upper back, and even the core gets a bit of heat. This is a solid scapular exercise to engage the shoulder blades, delts, traps, and rhomboids all at once. That's why it's top on our list of best scapular exercises!
Exercise Method
Wrap a cable machine or pole in a resistance band with handles.
Take a handle in each hand and take a step back until the band feels tight and firm.
Pull the band apart, forming a T, with your elbows upright and your posture solid.
Return to the beginning position by lowering your arms.
Continue as needed.
2. Banded Pull-Aparts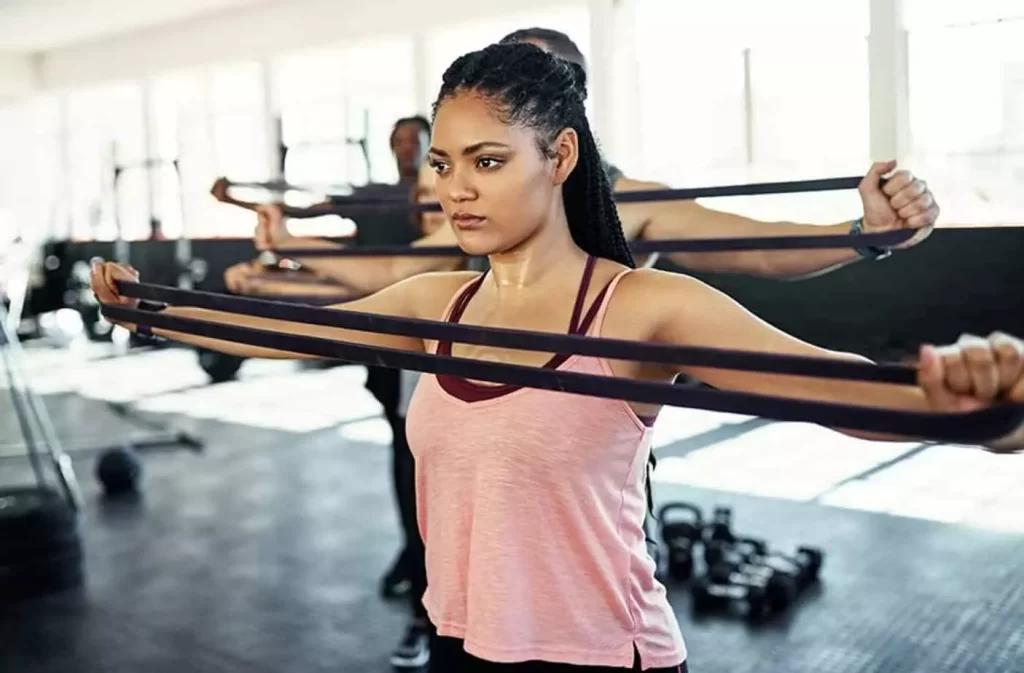 Banded Pull-Apart exercise focuses on scapular retraction and it's one of the effective warm-up scapular exercises for a heavy shoulder workout. Banded Pull-Apart exercise also strengthens the delts, rhomboids, and middle traps. For the first few sets of this exercise, use a light band to get a feel for the resistance. Once you grow comfortable with the exercise, complete 3 sets of 20 reps three times a week.
Exercise Method
Hold a lengthy band, With your palms facing each other and shoulder­width apart.
Spread your arms as wide as possible by pulling the band apart as far as you can.
Return your arms to their initial posture by slowly relaxing them.
Continue as needed.
3. Scapular Push-Ups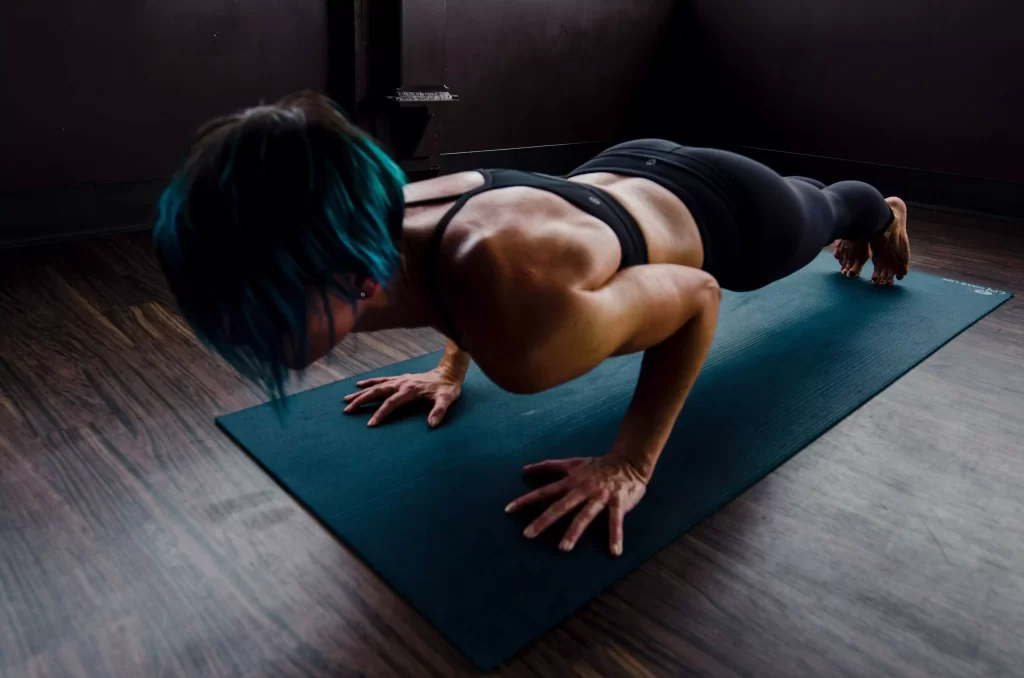 Scapular Push­-Ups workout is one of the most effective scapular exercises for shoulder stability and external rotation. Also, this exercise is effective for posture improvement and preventing neck pain. Scapular push-ups force the shoulder muscles to apply the strength and stretch their range of motion by activating the serratus anterior. Begin with three sets of ten reps and aim to do this exercise twice a week before increasing the number of reps in each session. It's normal to experience some shoulder pain at the beginning.
Exercise Method
Place your hands flat against a wall, shoulder­width apart and at chest height.
Push your sternum towards the wall until your shoulder blades come together
Push your sternum away from the wall, opening up the scapula and rounding your back.
Continue as needed.
4. Banded YTWLs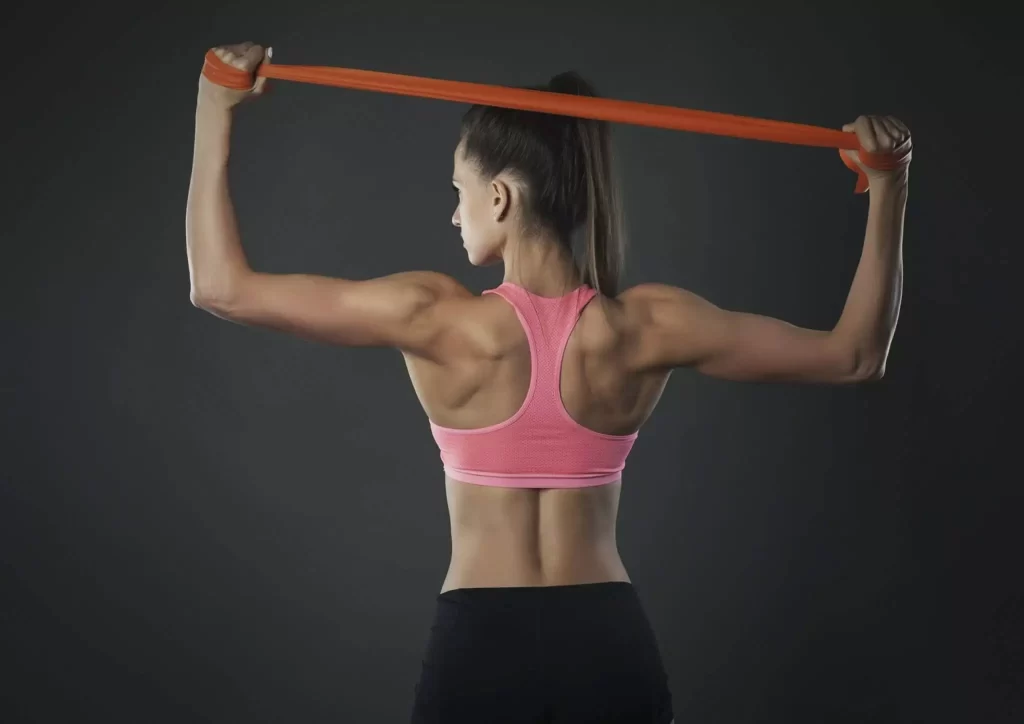 Banded YTWLs is one of the Scapular Exercises that train the upper back through movements done in daily life and improve your scapular stability and shoulder strength. This exercise targets every movement of the shoulder blades, also force all the muscles in the back to activate and work. Banded YTWLs are usually done with a band looped around an anchored object, with dumbbells, or on a cable machine.
Exercise Method
Anchor a band about chest height and grab with both your hands
Stand upright with your feet hip­width apart and your core engaged.
Complete 5 reps by slowly raising your arms overhead in the shape of a Y.
Complete 5 reps by slowly straightening your arms out to your sides in the shape of a T.
Raise your forearms, bend at the elbow, and make a W with your hands parallel to your ears – 5 reps
Complete 5 reps by squeezing your shoulder blades together, pulling your arms back, bending at the elbow and lifting them in an L shape.
5. Reach and Rows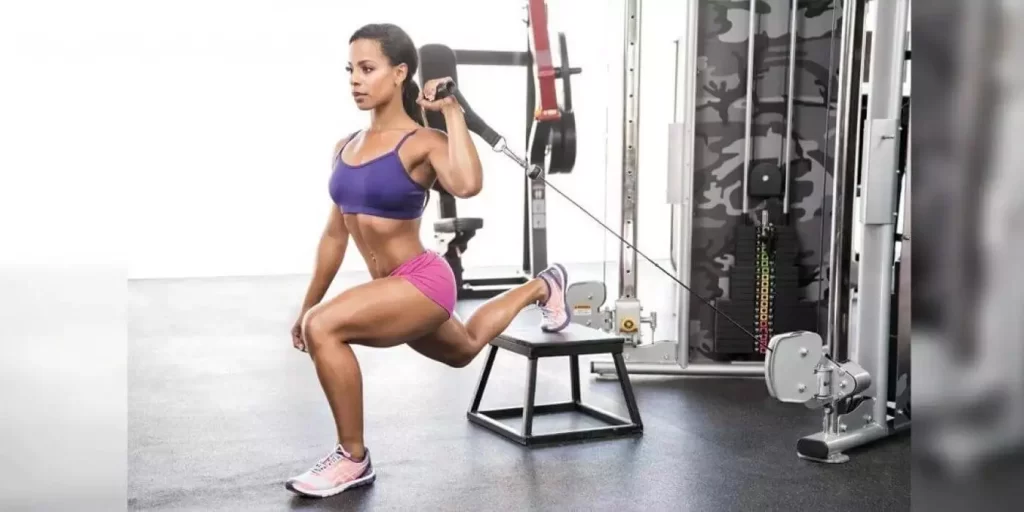 Reach And Rows are good scapular exercises for increasing muscle mass and also provide heavy training for the serratus anterior. By offering a  solid stretch for your upper back and engaging the serratus anterior, reach and rows will get your back muscles toned up in no time. This Exercise allows you to focus on slow, deliberate workout movements to properly move one scapula away from the other. This workout can be done three to four times a week.
Exercise Method
Wrap a resistance band around an object that is anchored (or use a standard cable machine)
Walk backwards, holding the band or handle in one hand, until you feel resistance in the band.
Lean forward with your body, reaching for the anchored object or machine, with the opposite leg forward to the arm that is pulling, knee bent, and the other leg out behind you.
Keep your shoulder down and pull the handle or band down and towards your hip.
Raise your torso and stand up upright as you pull.
Repeat as needed, and then transfer to the opposing hand and leg.
6. Stability Ball Push­-Ups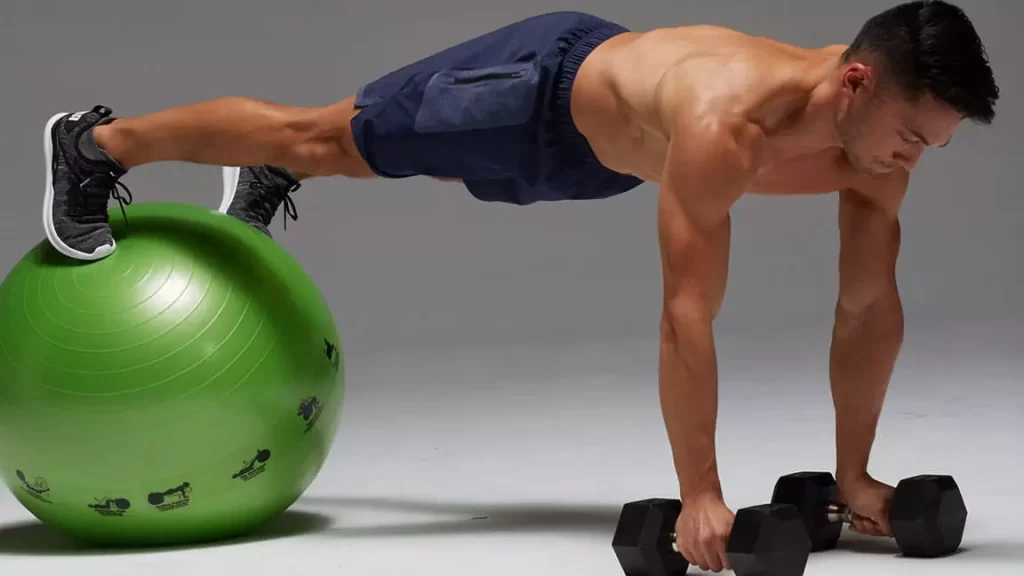 Stability Ball Push­Ups are among those Scapular Exercises that will challenge your scapular strength as this workout requires more balance. Also, this exercise will enhance your shoulder stability and strength. Stability Ball Push­Ups activate the stabilizing muscles in the shoulder blades as well. You can do this exercise anytime. Try to do this exercise two times a week in the gym.
Exercise Method
Place your feet hip­width apart on the ground with your hands centered on a stability ball.
Engage your core muscles, clench your glutes, and slowly lower yourself into a push­up.
Return to the beginning place and repeat the process.
7. Forearm Wall Slides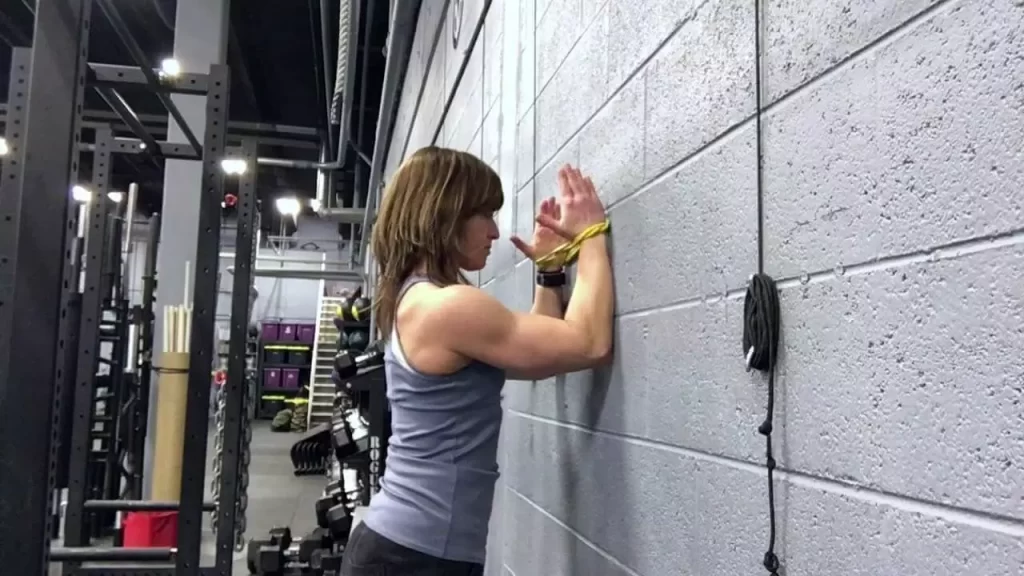 Forearm Wall Slides exercise will engage the scapular retractors and lower traps for an improved scapular upward rotation and improved external rotation. This is one of the scapular exercises you won't want to miss, as it helps you to improve your scapula strength. Professional athletes perform this exercise on a regular basis to improve their overall shoulder strength and function.
Exercise Method
Stand 3 inches away from a wall and pinch your shoulder blades together to retract your scapula.
Lean against the wall and gradually move your forearms upwards.
Squeeze each shoulder blade as you move your arms.
Lower your forearms gently and repeat the process as needed.
8. Overhead Carry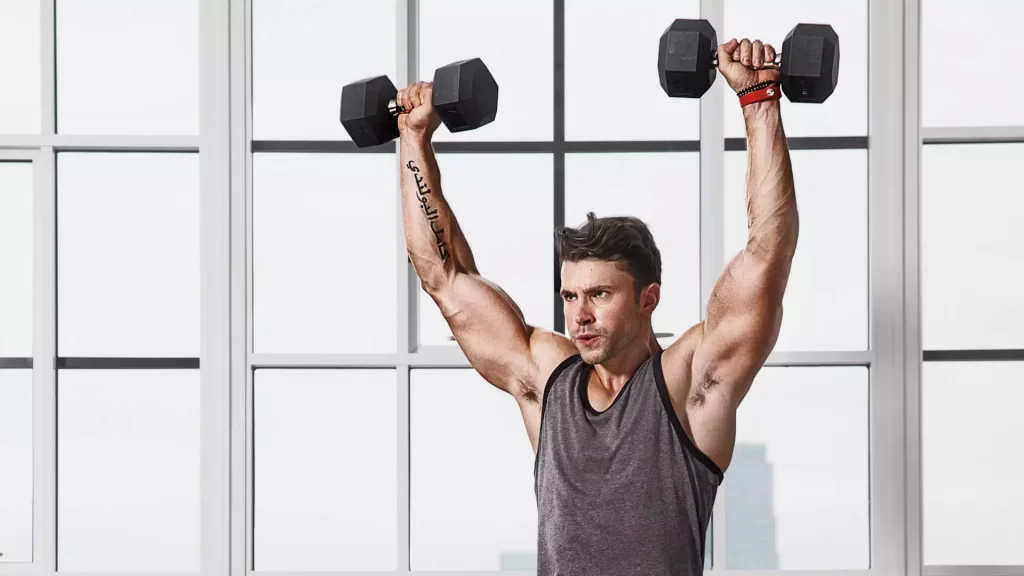 This overhead carry exercise strengthens your scapula stability and improves your overhead strength for doing other exercises like the overhead press and squats. Also, this workout will build strength in the upper back and shoulders. When doing this exercise focus on your form and maintain your back straight and engaged. Overhead carries can be added into arm or core training and you can do this exercise three times a week.
Exercise Method
Obtain a barbell, either loaded or unloaded.
Push it overhead with your hands shoulder­width apart.
Take slow, deliberate steps forward while facing straight ahead, keeping your biceps close to your ears and your wrists neutral.
Keep walking for as long as you like.
9. Wall Ball Circles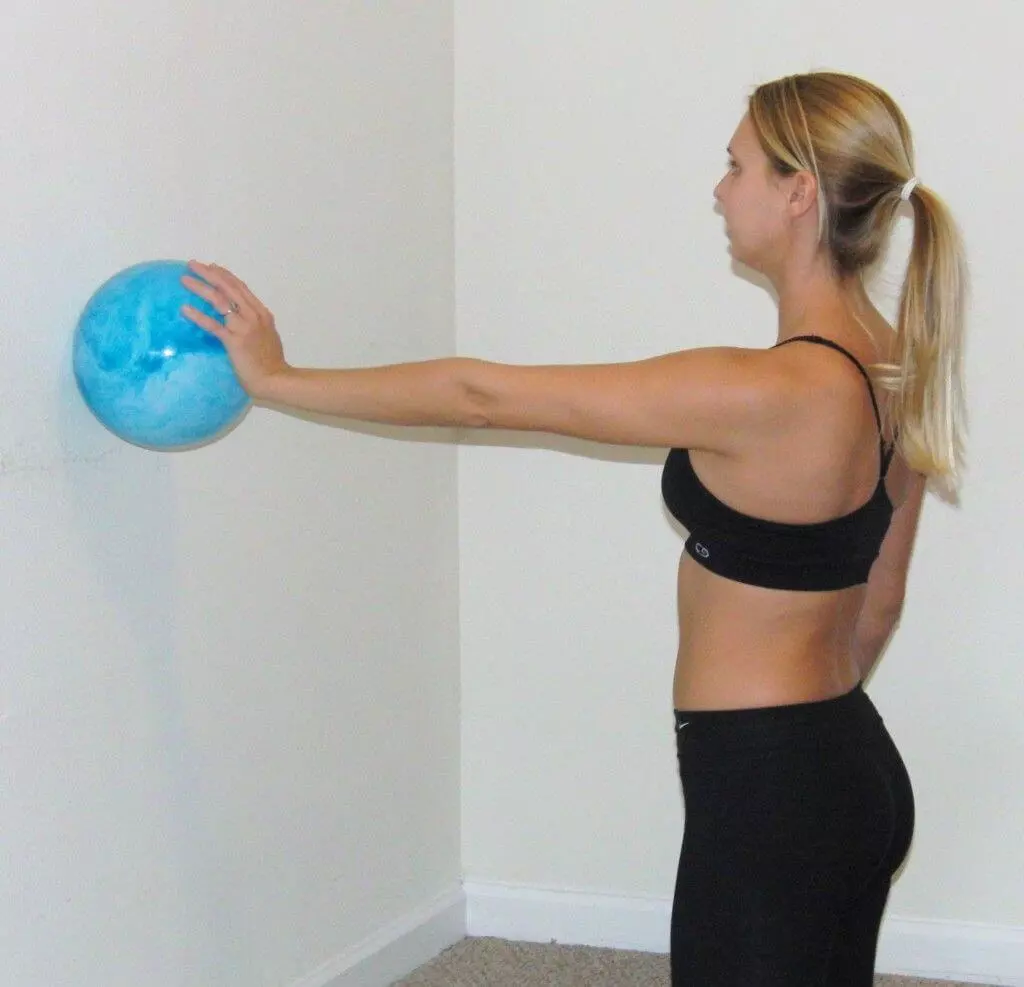 Wall Ball Circles are one of the best scapular exercises for Strengthening the serratus anterior and rotator cuff muscles in the shoulders which also improve the external rotation. The rhythmic movement of wall ball circles significantly increases shoulder muscle mobility and flexibility. You may make this exercise even better by actively engaging your abdominal muscles for an extra core burn. If you want a greater challenge and don't have any shoulder issues, you can use a heavier ball for this workout.
Exercise Method
Stand in front of a wall with a medicine ball in your hand.
Press the ball against the wall with one hand and add more pressure to keep it there.
Roll the ball in a tiny circle with your palm, both clockwise and counter-clockwise.
Change hands and repeat as necessary.
10. Modified Plank with Protraction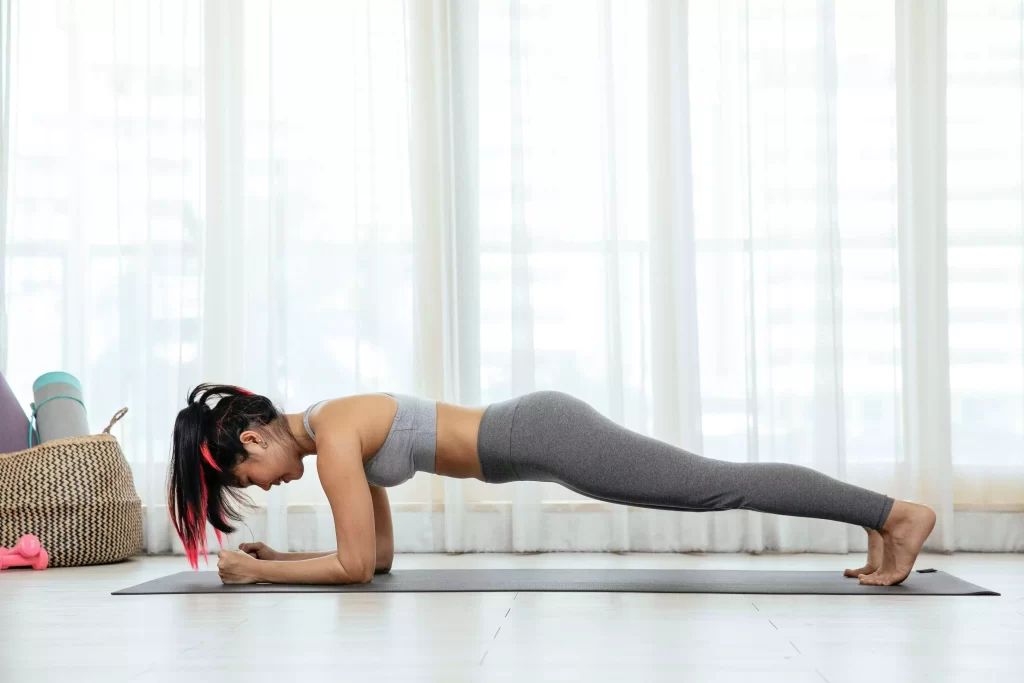 This workout maximizes your shoulder stability and strength by activating the serratus anterior. Plank scapular exercises are notoriously challenging and can make you shake at the end of a long workout. However, planks are a great exercise for improving stability in the core and shoulders and are useful in both warm­up and shoulder exercises. The good news is you can do this exercise as often as you like.
Exercise Method
Perform a modified plank with your forearms flat on the floor.
Keep your back flat and straight while engaging your core
As you slowly raise up, engage your serratus anterior by pressing your weight through your forearms, splitting the shoulder blades.
Descend to the starting spot after three seconds of holding.
Continue as needed.
Conclusion
The importance of the scapula and its surrounding muscles for upper body strength cannot be overstated. However, they are frequently neglected. Just, think of all the workouts you do in conjunction with your shoulders. Without the scapula, those exercises would be toast. Any of the scapular exercises outlined above will help you strengthen your shoulders and enhance your shoulder muscles mobility.
What scapular exercises are your personal favourite? Let us know your favourite exercise from this list!